The 2018 Soap Has all been sold. I will let you know when the batch for 2019 is cured enough for sale.  Thank you for your vote of approval by increasing the demand for more.  We are working on it!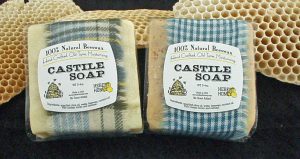 100% Natural Castile/Beeswax SoapFor centuries people the world over have been using the wax produced by the bees to make high quality long lasting soap. The ancient Greeks used olive oil and beeswax to produce a fine Castile soap that leaves the skin feeling soft and moist. The addition of honey and oatmeal to some of the bars exfoliates while adding natural emollients and enzymes to improve the health and feel of your skin. The Pollen Soap feeds your skin making it soft and healthy. The deep cleaning lemon soap with it lemon zest in each bar smells great.
All of these types are still 100% natural and contain no scent.
We made the four types again this year and they turned out Wonderfully!
This year we will are again offering:
Beeswax
Lemon
Pollen
Oatmeal
---
One 4 oz Bar – $5.00
---
Four 4 oz Bars 18.00
---